Thank you for visiting the SUPERBUMPER on-line ordering website. All payments are handled through Paypal secure payment systems.
You can make payment using your Paypal account or any of the credit cards shown below. Thank you for visiting!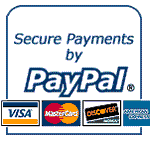 " Jeff, Installed in 60 seconds. Great Product, very substantial, well made. A really good value. I appreciate the personal service and follow up as well. And, I will send you some pictures shortly. Truck needs a bath first.
Thanks again very much & wish you the best with it."