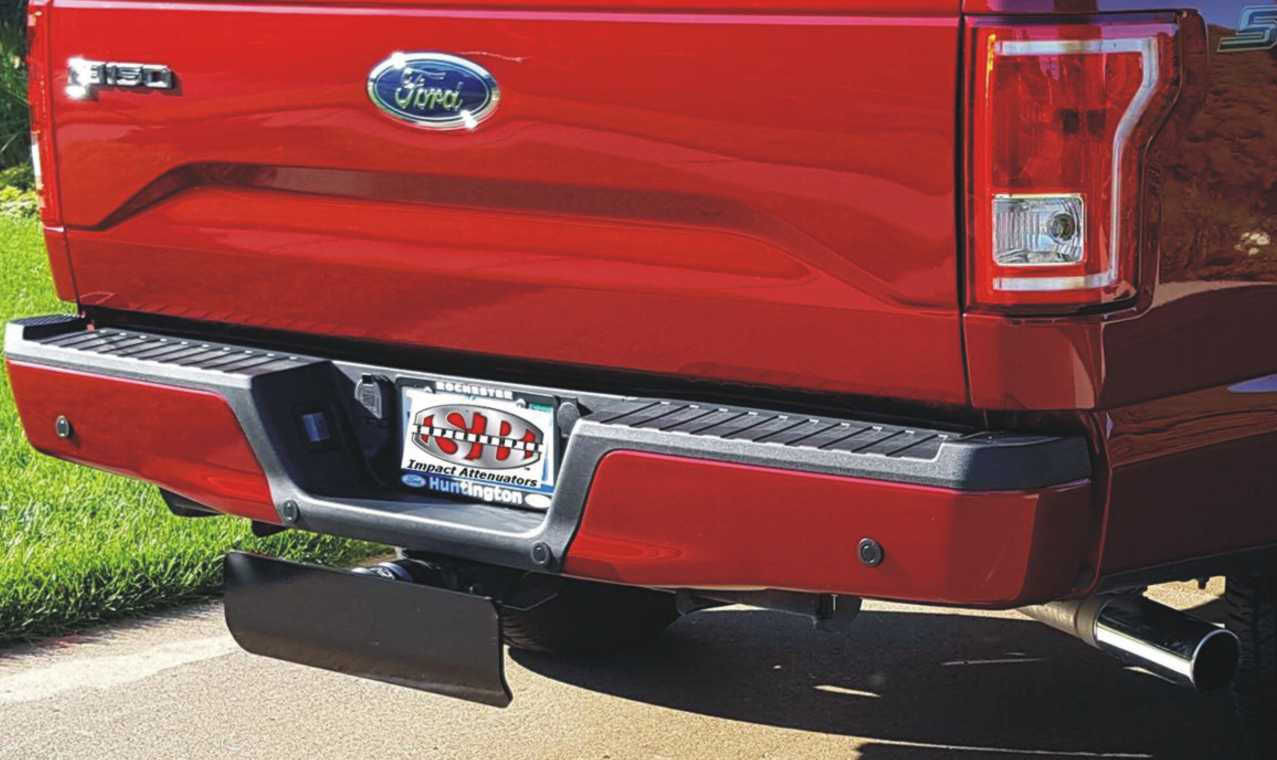 Order Bumper Shield Magnum
Crash Tested & Proven to Reduce Collision Damage & Whiplash! For any vehicle with a

2″ Receiver Hitch!
Order Online Now or Call!
ORDER MODEL BSMAGB – BUMPER SHIELD MAGNUM IN BLACK
Model Number: Bumper Shield Magnum Black Specs: Color: Black Size: 20″ X 6″ Plate Thickness: 3/8″ Weight: 20 pounds Description: This crash tested, energy absorbing custom hitch cover not only covers your ugly receiver hitch, it works as a bumper shield for rear mounted 2" receiver hitches and doubles as a skid plate and bumper shield for front mounted receiver hitches. It is 20" wide by 6" high instead of 16″ by 6″ high, only sticks out 4" beyond your receiver hitch, crushes 2" when hit, won't interfere with most vehicles equipped with backup alarms.  It has a dual compression system so it can be pinned out for maximum protection or pinned in closer (still energy absorbing) for approach angle clearance during off-road use, tight garage spaces or to avoid being detected by backup alarms. Simply arrange the rubber bumpers / spacers and pin it where you want. Because this hitch cover is energy absorbing it will protect your family from whiplash, keep your receiver hitch from bending when hit from the rear (unlike most static receiver hitch products – including your ball mount), keeps Braille parallel parkers (people who park by "feel") from wrecking your bumper, saves your $500 deductible and has a lifetime crash warranty (like all of our products) – if it bends or breaks from a rear end collision, at any speed, it will be replaced absolutely free! Specifications
Length: 20″
Height: 6″
Material: Steel
Thickness: 3/8″
Weight: Approximately 20 lbs. – Supports 3,300 lbs static weight.
Capability: Stops 1 ton @ 4.34 mph (without you feeling anything) – Withstands 15-20 mph impacts.
Receiver Hitch: 2″ ONLY – Black Powder Coat Finish
Compression System: Dual – Inside and Outside – UV coated Rubber
Pricing: $139.95

Rather order by Phone?
Call our toll free number to order!